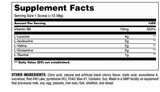 Universal Atomic 7
Dietary Supplement.
Enhanced BCAA Drink Mix.
For athletes looking to maximize performance in the gym but enhanced recovery at the same time.
Atomic 7 combines the proven ratio (2:1:1) of branched-chain amino acids (BCAA) with additional key performance ingredients such as L-glutamine and L-taurine. This powerful but delicious formula can not only help maximize performance while training, but also improve recovery afterwards. Atomic 7 can also help to decrease fatigue, enhance muscle protein synthesis, increase cell volumization, improve immune function, spare liver and muscle glycogen, reduce muscle breakdown, and serves as a fuel source during prolonged exercise.
Directions:
As a dietary supplement, mix 1 scoop of Atomic 7 with 8-12 oz of your favorite cold beverage and use a shaker. For best results take before and after workout.
Note: Some ingredients and nutritional facts may vary based on flavor.
Notice: Individual results may vary. You should always consult with your physician before starting this product or any health-related program.
Disclaimer: The product descriptions and the statements on this page are from manufacturers and/or distributors and have not been evaluated by VitaSprings or the FDA. These products are not intended to diagnose, treat, cure, or prevent any disease. VitaSprings does not imply any medical claims from the customer reviews on this Atomic 7, Enhanced BCAA Drink Mix product on this website.
© Universal Nutrition
Write a Review on this Atomic 7, Enhanced BCAA Drink Mix product and share your experience or opinion with other customers.


Atomic 7, Enhanced BCAA Drink Mix