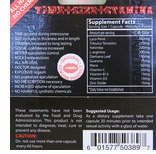 Thunder Bull - Men's Pill
Dietary Supplement.
No Headache.
Max Power.
Sexual Confidence Increased.
All Natural.
Disclaimer: All models are 18 years of age or older. This page is intended solely for viewing by an adult audience. You will not allow anyone under the legal age of 18 to have any access to materials contained within. The product descriptions and the statements on this page are from manufacturers and/or distributors and have not been evaluated by VitaSprings. VitaSprings does not imply any medical claims from the customer reviews on this product, and is not responsible for any product sold on or through this site or any claims of quality or performance made on or through this site.

works every time for me, has not let me down.

-- gonz 08/20/2017

Took one pill it worked good. The third time the capsule failed me.

-- joseph 01/01/2017
Write a Review on this Thunder Bull, Male Performance Enhancer product and share your experience or opinion with other customers.


Thunder Bull, Male Performance Enhancer