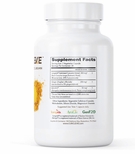 Curcleve
Longvida Optimized Curcumin.
High Potency & Maximum Bioavailability.
Dietary Supplement.
Curcleve is formulated to help strengthen your immune system and reduce painful inflammation. This powerful immune system booster also promotes brain health as you age and helps microbiota in your gut flourish and thrive. Taken in just one daily dose for 24-hour circulation, Curcleve may help to:
Fortify the Immune System.
Provide Enhanced Natural Anti-Inflammatory Effects.
Promote Gut Health.
Ease Joint Pain.
Support Working Memory.
Be Absorbed 285 Times Better Than Standard Curcumin.
Curcleve Ingredients:
Longvida Optimized Curcumin, Astragin, Ginger.
Notice: Individual results may vary. You should always consult with your physician before starting this product or any health-related program.
Disclaimer: The product descriptions and the statements on this page are from manufacturers and/or distributors and have not been evaluated by VitaSprings or the FDA. These products are not intended to diagnose, treat, cure, or prevent any disease. VitaSprings does not imply any medical claims from the customer reviews on this Curcleve, Longvida Optimized Curcumin product on this website.
© Leading Edge Health
Write a Review on this Curcleve, Longvida Optimized Curcumin product and share your experience or opinion with other customers.


Curcleve, Longvida Optimized Curcumin