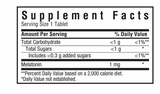 Bluebonnet EarthSweet Chewables Melatonin 1 mg
Sleep Support.
1 mg of Melatonin.
Sweetened with EarthSweet.
Raspberry Flavored Chewable Tablets.
Gluten-Free, Soy-Free, Kosher Certified, Non-GMO, Dairy-Free, Vegan.
Dietary Supplement.
Bluebonnet's EarthSweet Chewables Melatonin 1 mg Tablets help to minimize occasional sleeplessness for those affected by disturbed sleep/wake cycles, such as those traveling across multiple time zones. Sweetened with EarthSweet, a proprietary mix of fruit powders and sugar cane crystals.
Directions:
As a dietary supplement, take one chewable tablet 30 to 60 minutes before bedtime or as directed by a healthcare practitioner.
Caution: Not for long-term use or for children under 12 years of age. If you suffer from chronic sleeplessness and/or are taking prescription medications, such as tranquilizers, sedatives, or antidepressants like MAO inhibitors, consult with your healthcare practitioner before use. Do not use this product if you are pregnant, trying to conceive or breastfeeding. Residual drowsiness may occur, so refrain from operating machinery or driving a vehicle when taking this product.
Notice: Individual results may vary. You should always consult with your physician before starting this product or any health-related program.
Disclaimer: The product descriptions and the statements on this page are from manufacturers and/or distributors and have not been evaluated by VitaSprings or the FDA. These products are not intended to diagnose, treat, cure, or prevent any disease. VitaSprings does not imply any medical claims from the customer reviews on this EarthSweet Chewables Melatonin 1 mg, Raspberry Flavor product on this website.
© Bluebonnet Nutrition
Write a Review on this EarthSweet Chewables Melatonin 1 mg, Raspberry Flavor product and share your experience or opinion with other customers.


EarthSweet Chewables Melatonin 1 mg, Raspberry Flavor