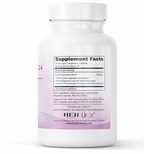 HerSolution Confitrol24
Bladder Control.
Dietary Supplement.
Combat Urinary Incontinence - Bladder Control Formula

Confitrol 24 is a clinically-proven formula that helps women reduce the symptoms of occasional incontinence, starting in as little as two weeks. This breakthrough formula won multiple prestigious awards for its effectiveness and speed of results. Now you can have a natural way to eliminate occasional bladder worries by:
Diminishing humiliating accidents and uncomfortable leaks.
Reducing sleep-depriving bathroom sprints by nearly half or more.
Dramatically decreasing those inconvenient urges to "go."
Staying dry longer and significantly reducing pad usage.
Strengthening bladder walls, and pelvic floor and sphincter muscles.
Naturally alleviating symptoms of occasional urges and stress incontinence.
A safe, 100% natural formula supported by clinical results.
The three ingredients in Confitrol's Urox blend include:
Raw Horsetail, Cratevox, Lindera Aggregata.
Notice: Individual results may vary. You should always consult with your physician before starting this product or any health-related program.
Disclaimer: The product descriptions and the statements on this page are from manufacturers and/or distributors and have not been evaluated by VitaSprings or the FDA. These products are not intended to diagnose, treat, cure, or prevent any disease. VitaSprings does not imply any medical claims from the customer reviews on this HerSolution Confitrol24, Bladder Control product on this website.
© Leading Edge Health
Write a Review on this HerSolution Confitrol24, Bladder Control product and share your experience or opinion with other customers.


HerSolution Confitrol24, Bladder Control